※ "HYBRID AERO" is the registered trademark of ings.
A new FRP material that can achieve the same impact durability level as Urethane Resin.
Development concept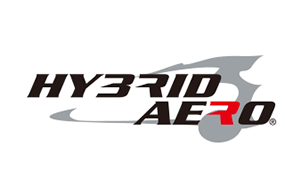 Through extensive testing and research, we have developed a hybrid fiberglass material that is unmatched in the industry. It has all the positive characteristics of traditional fiberglass (lightweight, easy to repair, holds shape well) as well as the flexibility and durability of materials such as plastic or urethane. The benefits of this race proven material can be yours on virtually every product we manufacture.
Features
1) "Impact durability" characteristic which cannot be obtained in the conventional FRP material is secured by a special resin mixing.
2) "Durability degradation from aging" is a concern in urethane. In our own endurance tests, we have cleared this concern at a high level.
3) The hybrid material maintains the degree of constructional freedom as large as that of FRP material.
4) The weight, which is one of the most important elements as the functional performance parts, is as light as FRP material.
5) Just like FRP material, the hybrid is easily repaired when it is damaged.3) Degree of freedom of construction it as well as the FRP material is large.